Dental Implants in Salt Lake City, Utah
Experience and expertise are crucial when it comes to dental implants. Dr. Mark Mangelson is a highly skilled implant surgeon with over 20 years of experience in this type of surgery. With a track record of placing thousands of implants, he combines precision and care to deliver exceptional results. We know you can trust in his expertise to restore your smile with confidence.
Dr. Mangelson and our team are here to help your smile, and at Salt Lake Implants & Periodontics, your dental implant placement will be performed by a seasoned professional who prioritizes your satisfaction and well-being. Get the care you need with the confidence that comes from working with our experienced dental professional.
What Is a Dental Implant? Ask the Utah Dental Implant Specialists.
A dental implant is a small titanium screw that serves as the replacement for the root portion of a missing natural tooth. The dental implant consists of three parts (see diagram):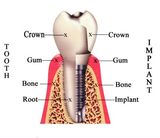 The dental implant, which replaces the root, is placed in the bone of the upper or lower jaw and is allowed to integrate with the bone and serve as an anchor for the replacement tooth.
The abutment, which serves as a connector between the dental implant and the crown.
The crown, which is fabricated by a dental laboratory, placed by a restorative dentist or periodontist and attached to the abutment.
Dental implants can be used to replace a single lost tooth or many missing teeth. Implants look, feel and function like natural teeth. Dental implants may also be used to support and retain dentures. Dental implants are a successful restorative option with a long clinical history. Dental implants preserve the integrity of the facial structure and reduce the inconvenience associated with tooth loss.
Our periodontist, Dr. Mark Mangelson, and the team at Salt Lake Implants & Periodontics specialize in dental implants in Salt Lake City, Utah and the surrounding areas. For a consultation, call our office at 801-266-3519.
To Learn More About Dental Implants in Utah, Please Click the Links Below:
Placing Dental Implants: Under local anesthesia, Dr. Mangelson exposes the bone, then inserts the appropriate number of dental implants. In most cases, the patient is able to resume normal activities the next day. Other procedures may be performed at this time, like bone grafting, tissue grafting or a sinus lift. These will have been discussed with you when you plan your treatment.
Bone Healing: After the dental implants are placed, they are covered with gum tissue while the bone heals. In many cases the dental implants and the abutment can be placed at the same time. During the next three to six months, the dental implants integrate with the bone. Temporary crowns, bridges or over-dentures are optional during the bone-healing period.
Connecting the Abutment/Bone Healing: In many cases, it is possible to place the abutment at the same time as the dental implant, and a fixed temporary solution may be constructed immediately or within a matter of days. If immediate placement of the abutment is not possible or desired, the dental implants may be covered by the soft tissue while the implants integrate with the bone. This usually takes three to six months. Different temporary solutions such as crowns, bridges or overdentures can be used during this time. You will be asked to return to our [city] dental implant office for follow-up examinations.
Restoration: When the dental implant has fully integrated, Dr. Mangelson takes impressions that are used in designing the final restoration. The impressions are sent to a dental lab where the crowns for the dental implants are made. Once the crowns are complete, Dr. Mangelson will attach the crown to the abutment, and the process will be complete. You are now ready to enjoy your new beautiful smile.
Maintenance: Long term success greatly depends on regular periodontal maintenance. Visit our [city] dental implant office for maintenance from our dental implant hygienists.
The sinus lift procedure is intended to gently elevate the floor of the sinus (upper arch) and allow access for bone graft placement. Following the sinus lift and bone graft, a six- to nine-month healing period is required before the placement of the dental implant.
A sinus lift increases the likelihood of success for the placement of dental implants. Sinus lifts are both clinically and technically demanding and should be performed by trained dental specialists.
Dr. Mangelsonis highly skilled at performing sinus lifts, and you can be confident in the success of your dental implant.
Anyone who is missing one or more of their teeth due to injury, periodontal disease or decay may be a candidate for dental implants. If one, several or all teeth are missing, dental implants used in conjunction with a crown or bridge can replace those teeth.
Occasionally, older patients express concern that their age may prevent them from enjoying the benefits that dental implants offer. However, health is more of a determining factor than age. If you are healthy enough to have a tooth extracted, you are probably healthy enough to receive dental implants.
Working with your dentist, Dr. Mark Mangelson will determine if you are a candidate for dental implants after a careful evaluation of your dental and medical health history. At this time, all of your periodontal questions can be answered. Call us at 801-266-3519 today to visit our office and see if this treatment is right for you!
The time needed for a dental implant treatment will vary depending on your individual situation. In specific circumstances, it is possible to get well-functioning and aesthetic looking teeth within a few days. In most cases, it may be necessary to wait for dental implant integration before finishing the restoration in order to obtain an optimal result.
The fee for tooth replacement with dental implants will depend on several factors, including the number of teeth being replaced and the number of implants required to support your restoration. It is important for you to know that you do not necessarily need a dental implant for each missing tooth.
Some additional procedures may be required prior to the placement of your dental implants to ensure the long-term health of your dental implants.
To obtain a specific fee estimate for dental implants in Salt Lake City, Utah, it is necessary to have Dr. Mangelson complete a thorough periodontal evaluation of your mouth. After a diagnostic examination, he will recommend the treatment that is best for you and what your investment would be for the procedure. Our periodontal office is in a convenient location for all of your specialized dental needs.
There are two parts to every tooth: the crown and the root. The crown is the visible part, and the root is the unseen part that anchors the tooth in your jawbone, providing stable support for your crown. When an entire tooth is lost — crown and root — shrinkage of the jawbone may occur, making you look older.
Dental implants look, feel and function like your own natural teeth.
Dental implants help to preserve the bone. There are many ways to replace tooth crowns, but only dental implants can replace the entire tooth, including both crown and root.
Dental implants eliminate the pain and discomfort of removable full or partial dentures. Since dentures sit on top of the bone and gums, continuous shrinkage of the bone alters the fit of the denture, resulting in slipping or rocking of the dentures.
Exposed nerves and irritation of the gum tissue may add to the discomfort. Implant-supported replacement teeth are like natural teeth because they are anchored securely in your bone. Gum irritation and the pain of exposed nerves associated with conventional full or partial dentures is virtually eliminated.
There is a tendency for ill-fitting dentures to move in the mouth. The facial muscles become tense in an attempt to hold the teeth in place. This often results in mumbling, slurred speech or clicking noises. Dental implants or implant-supported dentures allow you to speak with confidence in a relaxed and natural tone.